Music for Percussion Ensemble.  This is a list.  To purchase, go to "Music for Sale".  If it isn't there, go to mostlymarimba.com.  Thanks!
Sarah's Dance (2020).  Written for Sarah Tenney, commissioned by the  42md Annual Seminar On Contemporary Music For The Young and the Rivers School Conservatory, and for her Marimba Magic Ensemble.  The first commission I did for Sarah and Rivers was a work for marimba solo and chamber orchestra, Rivers of Wood, which was premiered by one of her students.. This time I composed a work for percussion ensemble, Sarah's Dance. Each part was written for a specific instrument from amongst the available inventory of percussion instruments, and also for a specific student currently involved in her group. The music for Sarah's Dance is essentially melodic and singing in nature, alternating with more rhythmic sections, very much in a conversational setting, creating a counterpoint of both melody and rhythm. It is a "dance", because what Sarah and her students do is always an amazing job of bringing music and joy to life through music. The music might be seen as a kind of overture of better things to come in the middle of difficult times in our world.  Available from Full Circle Publications soon!  Write me at gstout@ithaca.edu if interested.  Thanks.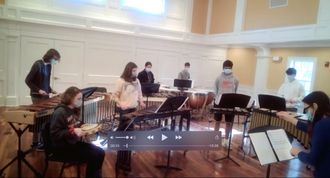 Emerald Romp (2017).   A romping and exciting work for this trio combination consisting of vibraphone, marimba, and drum set.  It is a difficult work, with rhythmic difficulties, technical challenges, which requires a high level of ensemble skill.  I am nonetheless very fond of this music, and hope you will all check it out after listening and watching the premiere by the great percussionists at Northwestern University (coached by She-e Wu and Gordon Stout).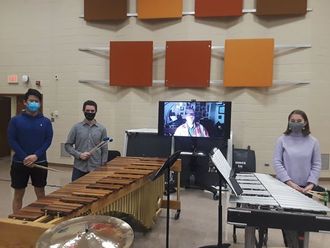 Prolific Platitudes (2016). For percussion quartet.  Instrumentation:  xylophone, two marimbas (4.0 and 5.0), and drum set.  A fun piece, written for the graduate percussion quartet at Ithaca College, and premiered in 2016.  This piece has a kind of happy, funky kind of groove, mixed in with a little bit of minimalism.  Very playable by any college or advanced high school group.  Available from Full Circle Publications.