Compositions for Marimba Duo 
Mystic Rites of Flight, 2016. This composition was written for The Tchiki Duo from Lausanne, Switzerland.  They are Nicolas Suter and Jacques Hostettler.  The premiere performance was at KALIMA 2016 in Lausanne.  It was an amazing experience for me, as their playing is magnificent is all respects.  This is a very difficult piece, for two 5.0 marimbas.  I absolutely love this music!!!  It is now scheduled for publication by KPP, at some point in the future-maybe 2022.  Therefore if you are interested in getting the music for a performance, please write me at gstout@ithaca.edu.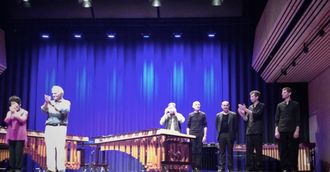 Tailoring for Two (2013). For marimba duo (two 5.0) Written for my student Taylor Katanick, and premiered by Taylor and myself in 2014 at Ithaca College.  KPP  A really fun duo, requiring two 5.0 marimbas.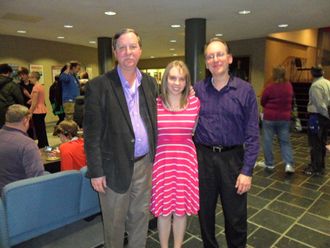 Bossaccata (2013).  For marimba duo (two 5.0'), this is a cross between a Bossa and a Toccata.  A difficult work, but it is lively and dance like.  Check it out.  KPP.
Acquiescent Blues (2013).  My very first composition employing vibes in a duo context.  This duo is for EASTHAMA, the mallet duo consisting of Lindsey Eastham and Hiromu Nagahama, who were winners of the Duo Category at the  Southern California International Marimba Compeition in 2013.  KPP,  2016. 
The recording is from a graduate recital with EASTHAMA (Hiro Nagahama and Lindsey Eastham) at Ithaca College on April 17, 2016.