Coming soon:  Wailing Song (202) for marimba orchestra.  This exciting composition will be premiered at PASIC 2021 by the International Marimba Orchestra.  The group will consist of approximately 40 players.  It includes four percussion, including John Beck on timpani, Phillip O'banion on bass drum, Jud Brill on cymbals, and Willis Rapp on chimes.
 Sinfonietta(2019)  is Stout's fourth composition for marimba orchestra, and was commissioned and composed in 2019 for the Kitakyushu Marimba Orchestra RIM in Japan, premiered on March 15, 2020.  It is very much a "classical" piece in structure, being in three movements:  Tarantella, Song, and Pas de deux.  It requires a group with much musical depth and great technical sophistication, but the members of the Kitakyushu Marimba Orchestra group were more than up to the challenge. 
The Tarantella is a rapid whirling dance originating in southern Italy, in this case in a changing meter rhythmic environment, but with a similar fast upbeat tempo. 
The Song is a beautiful movement in a folk song style., but with strong rhythmic metric structures. 
The Pas de deux features pairs of instruments, most frequently with marimbas 1 & 2 and 3 & 4 being paired together. 
Sinfonietta is played continuously from one movement to the next.  I hope you enjoy this music.  I had a wonderful time composing it.  I love marimba orchestra!  The amazing sounds of the RIM  marimba orchestra are great.  This is an amazing performance.. 
GBS
Dream-Awakening and Dance (2015).  This is my third work for marimba orchestra, and was written for the Celebrate Musser Festival at Kutztown Univerisity, PA in November of 2015.  It is a kind of concerto grosso style composition, featuring two marimba soloists with marimba orchestra.  The soloists for the premiere performance were Bob Becker and Yurika Kimura.  The orchestra was conducted by Gordon Stout.  The orchestral score is written such that there are tutti and soli sections.  Bob and Yurika really like the composition, and I hope it receives lots of performances in the future (of course). It is available from KPP and Steve Weiss Music.  It will also be performed at PASIC 2021, I hope with Bob and Yurika as soloist once again (the pandemic may cause some not to be able to attend)!!  The video of this performance is on the YouTube channel of Heartland Marimba.
New York Triptych (2011).  For marimba orchestra.  Commissioned and composed for the Percussive Arts Society and it's 50th anniversary celebration in 2011. Premiered at PASIC 2011 in Indianapolis, by 50 great marimbists and friends. Principal marimba1 and concertmaster: Bob Becker. Principal marimba2: Kevin Bobo. Principal marimba 3: Michael Burritt. Principal marimba 4: She-e Wu.  Published by Keyboard Percussion Publications (www.mostlymarimba.com).  Since the premiere, NYT has also been performed in Croatia, Switzerland, and at Temple University. The recording here is by the Heartland Marimba Quartet, and is an amazing performance of this piece!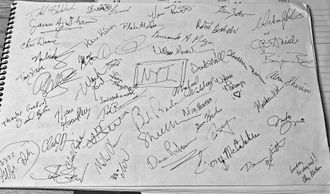 Endless Mountains Wooden (2005).  This work was completed in the fall of 2005.  It was composed expressly for the Taiwan International Percussion Convention 2005, and is dedicated to Tzong-ching Ju for his tireless devotion to the development of percussion and the marimba in Taiwan. I tried to capture the breadth, scope and magnificance of the sound of the marimba orchestra in this music, and the image of large and beautiful mountains came to my mind.. There is an "endless" rhythm which goes throughout almost all of the piece. And, of course, the most important part of the marimba is the wood that makes the keys (Honduras Rosewood). I have always been fascinated in the marimba as a lyrical and vocal instrument - "the wood that sings" - and therefore have some of the marimbists singing throughout the composition. It is my hope that this music will successfully enable the spirit and sound of the marimba orchestra to entice your ears, and touch your heart.  Published by Keyboard Percussion Publications (www.mostlymarimba.com). 
The recording contained herein is an mp3 for the Sibelius file, using Sibelius 6 Essential sounds.