Duo Concertante (1994).  This is a difficult work of some 19 minutes, consisting of a theme and five variations. It explores different musical and textural relationships between the two marimbists and the wind ensemble. The premiere performance was at Ithaca College in April of 1996, with the composer and Ted Rounds, marimba, conducted by Rodney Winther. This piece should provide a welcome addition to the concerto repertoire, allowing two advanced marimbists to be featured, and requires an excellent wind ensemble.  Recording: With Dane Richeson on "Air Mosaic", and the Lawrence University Wind Ensemble, Robert Levy, Conductor. Mark Custom Recording Service, Inc. 5341-MCD (www.markcustom.com).  Published by Keyboard Percussion Publications (www.mostlymarimba.com).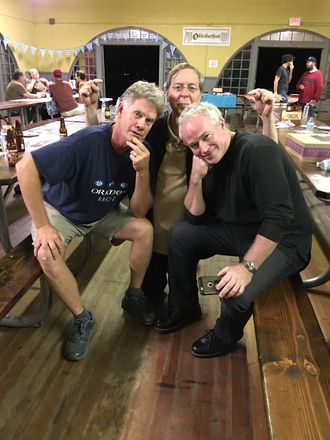 Rivers of Wood. 1999.  This work was commissioned by the Rivers Music School (Boston, MA) for the 22nd Annual Seminar on Contemporary Music for the Young. It is dedicated to Sarah Tenney and her 13 year old marimba student Eugene Lee. The most important challenge for me was to write music for the marimba that could be well played by a young student, as this is not something I have not done a great deal of. This task did not change the basic way in which I compose, however. I worked out a few bits of material while playing the piano. I then began to explore that material in many different ways, until I decided on the basic nature of the music to be written. Everything was then organically derived from those first few bits of material. The title of the piece is a combination of rivers from the Rivers Music School and wood, the material of the marimba bars. Perhaps the rivers portion of the title may also refer to the organic and flowing nature of the music, and the way that the same material keeps flowing throughout the entire work. This work was premiered in April of 2000, with Eugene Lee (13 years old) as soloist. This work is about 8 minutes in length. It was originaly for marimba solo and chamber orchestra. It is only  for sale in the marimba and piano version - I of course have the orchestral score and parts if anyone is interested.   Recorded: "Astral Projections", Resonator Records (www.mostlymarimba.com) 00042. Publshed by Keyboard Percussion Publications (www.mostlymarimba.com).
Three Movements for Marimba and Wind Ensemble (1974).  Written for my Performer's Certificate at the Eastman School of Music, and premiered with Gordon as soloist, and Donald Hunsberger conducting.  My very first attempt at writing for wind ensemble.  I chose to write my own concerto, as opposed to performing one already written (Creston, Kurka, etc.), and thought that chasing wind ensemble would make it easier to perform in the future, orchestras being less likely to perform a contemporary concerto with marimba.  I remember when it was performed at Lawrence University in Wisconsin (the only other performance every!), Robert Levy conductin.  It was on a very contemporary program with music by Gunther Schuller and a couple of others, and the Wisconsin audience didn't like my music at all, writing letters of discontent to the local news paper!  Haha!  That was my badge of honor.  At any rate, this work has never been published.  Write me if you are interested - I probably still have the score and parts somewhere!  The recording is from the Lawrence University performance.